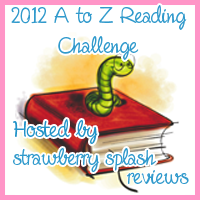 Hosted By: Strawberry Splash Reviews
1 January 2012 - 31 December 2012
So what does this A to Z Reading Challenge entail?
The A to Z Reading Challenge, which shall henceforth be known as AZRC, challenges you to read and review one book starting with every letter of the alphabet. There are three possible challenges you can partake in.
1. Author - A to Z by authors last name, 26 books.
2. Title - A to Z by book title, 26 books.
3. Double Whammy - Do both Challenge 1 and 2 for a total 52 books.
Note: There is no option to do some by author and some by title and read only 26 books.
Deadlines?
The deadline to register is May 31, 2012
What books count towards this challenge?
Anything you want. Well not anything. It has to be a book. You can count books you are reading for other challenges if you would like and rereads are perfectly fine. The only thing is you have to have read the book between
January 1,2012
and
December 31, 2012
. Part of this challenge is also reviewing the books and if you finished a book on December 31, you probably aren't going to review it that night. So the deadline for reviews is
January 31, 2013
.
And to reiterate, for books read, it only counts through the December 31.
NOTE:
X is a sucky letter. Try to find a book that starts with or an author that starts with X. But if all else fails, X in the title (or authors name) is fine!
And if you have any recommendations for X books, let me know. I think others would appreciate the suggestions as well :)
I'm doing both A-Z for title and author.
My Book List:
TITLE:
A -
B -
But I Love Him
by Amanda Grace
C -
Catching Fire
by Suzanne Collins
D -
Dukes to the Left of Me, Princes to the Right
by Kieran Kramer
E -
F -
Fault in Our Stars, The
by John Green
G -
Grave Witch
by Kalayna Price
H -
Hunger Games, The
by Suzanne Collins
I -
J -
Jacob
by Jacquelyn Frank
K -
L -
M -
Mockingjay
by Suzanne Collins
N -
Nightfall
by Ellen Connor
O -
P -
Q -
R -
S -
Sinner, The
by Margaret Mallory
T -
U -
V -
W -
Warm Bodies
by Isaac Marion
X -
Y -
Z -
AUTHOR:
A -
B -
C - Cook, Kristi -
Haven
D -
E - Echols, Jennifer -
Going Too Far
F - Fluke, Joanne -
Blueberry Muffin Murder
G - Garwood, Julie -
The Bride
H - Hocking, Amanda -
Switched
[reread]
I -
J -
K - Kramer, Kieran -
Cloudy with a Chance of Marriage
L -
M - McEntire, Myra -
Hourglass
N -
O -
P - Price, Kalayna -
Grave Witch
Q -
R - Ryan, Carrie -
The Dark and Hollow Places
S -
T -
U -
V -
W - Ward, J R -
Dark Lover
X -
Y -
Z -