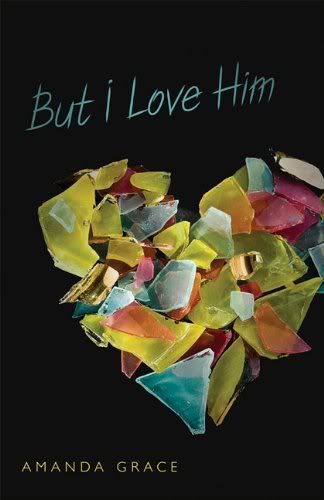 But I Love Him
by Amanda Grace (Mandy Hubbard)
Publisher:
Flux
Publication Date:
8 May 2011
Genre:
YA Contemporary
My Copy:
library - paperback
Tonight was so much worse than anything before it. Tonight he didn't stop after the first slap.
At the beginning of senior year, Ann was a smiling, straight-A student and track star with friends and a future. Then she met a haunted young man named Connor. Only she can heal his emotional scars; only he could make her feel so loved — and needed. Ann can't recall the pivotal moment it all changed, when she surrendered everything to be with him, but by graduation, her life has become a dangerous high wire act. Just one mistake could trigger Connor's rage, a senseless storm of cruel words and violence damaging everything — and everyone — in its path.
This evocative slideshow of flashbacks reveals a heartbreaking story of love gone terribly wrong.
Review:
This is one of those books where I am having a hard time determining if I liked it or not. The story covers exactly one year of a relationship between Ann and Connor. It starts with a piece from the last day, August 30, and then works its way to the beginning of the relationship backwards while interspersing pieces of the last day. The book ends with the first day they meet. I'll be honest, I didn't read the book in the order it was written. I don't mind reading books knowing part of the ending first or in reverse chronological order, but with this book, I wanted to know all of the last day at once. So, first I went through and read all of the chapters that were dated August 30 One Year, then went back and read the rest from the front cover to the back.
The author wanted the reader to understand what it is like in an abusive relationship where the victim often doesn't see what is going on until it's too late. I think she does this well with the reverse order. The highs and lows of being in the relationship are wonderfully done. The uncertainty about how to react or what will set someone off. The devotion of a first love in which you think you can fix all the problems. Having to stay quiet and ride out the anger of the abuser. The abuser can be extremely sweet at times. These things in the book can easily be understood by the reader. Also, Ann seems like an intelligent girl. People always assume that abuse won't happen to them or that the victim must be stupid.
But I Love Him
shows that anyone can become a part of a bad relationship. Connor doesn't seem like he's a necessarily bad kid either. You can almost sympathize with him at points without condoning his behavior towards Ann.
I found very few things I disliked about the book. It is a little difficult to follow at times. The minor characters relationship to Ann is not really ever explained until later in the book. I felt like even though it makes sense that they wouldn't be in the story line much at the beginning (since it was a controlling/abusive relationship and often you avoid friends and family when you're the victim) that they should have been included more at the end/beginning of relationship. I felt that the ending could have been stronger. Then again, I did read the entire last day first, so I missed one of the major points of the last day when I read it. I can't really explain more than that without giving away the ending.
Book Beginning:
"I lie in pieces on the floor."

Rating Breakdown:
Pacing: 4 stars
Plot: 5 stars
Characters: 4 stars
Character relationships: 4 stars
Recommend: Yes
Read for these challenges:
YA Literature
100+ Books