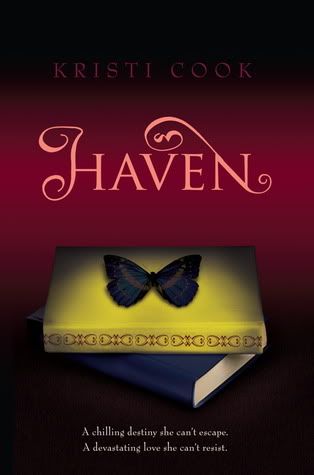 Publication Date:
22 February 2011
Genre:
YA Paranormal
My Copy:
library - hardback
Violet McKenna isn't a normal girl with normal teenage issues; she has more to contend with than most people could handle. Violet thought she was just crazy when she had a vivid vision of her dad's murder. Her life started falling apart when her premonition came true. She's had flashes of other events too. The problem was nobody believed her until she found a new school: Winterhaven.
At Winterhaven, Violet finally feels like she belongs. She quickly finds a close group friends and discovers that they too have psychic 'gifts'—as do all the students at Winterhaven. But as soon as she feels settled she discovers the most intriguing and alluring boy she has ever met, and things quickly go awry. As the attraction between them grows, intense visions of the boy's death start to haunt her. In her premonitions the secret he is unwilling to share begins to reveal itself. And to Violet's horror, she learns that their destinies are intertwined in a critical—and deadly—way.
Review:
I really enjoyed this story even though it wasn't really what I thought it was about. I think the synopsis is a little misleading. I liked that Violet was a fencer. I'm not really sure why that aspect stuck out for me, because I don't know anything about fencing, but I liked it. Maybe because it wasn't a sport most YA characters take up. I loved Violet's friends. Unlike a lot of YA novels, Violet hangs out with her friends throughout the story even though she's all gooey over Aidan. Cece and Sophie were my favorites, and I totally wanted them to be my friends too. It was interesting to have so many characters with special talents. How cool would it be to have some of them? Astral projection, telepathy, telekinetic abilities, empath, being able to tell if someone was injured?! I have to admit that the one I'd want the least would be Violet's ability to see the future, particularly since it's always bad stuff. I can't imagine seeing horrible things happening to people I loved on a regular basis.

I've probably read too many paranormal books because I knew very early on what Aidan was. So that aspect of the mystery was blown. However, I did wonder how they were connected, although his and Violet's relationship was all over the place. I honestly don't have much hope for them to stay together after the big connection is revealed because their relationship didn't really seem to have much of a foundation. Another downside to this story was the similarity to two other well known series. There were moments where I was just like "Eh, okay, I've heard this before." The ending seems a little rushed too. The author also includes a character who isn't really important to the story, Allison. There is only one place where she very briefly alludes to the ending, but it's so quickly passed over and never explained that it seems like it might as well have not been included.

Rating Breakdown:
Plot: 3 hearts
Pacing: 3 hearts
Characters: 4 hearts
Character Relationships: 4 hearts
Recommend: Yes
Read for these challenges:
YA Literature
100+ Books