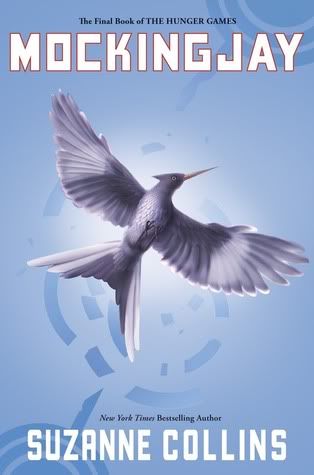 Mockingjay
by Suzanne Collins
Series:
Hunger Games #3
Publisher:
Scholastic
Publication Date:
24 August 2010
Genre:
YA Dystopian
My Copy:
bought - kindle
Young Katniss Everdeen has survived the dreaded Hunger Games not once, but twice, but even now she can find no relief. In fact, the dangers seem to be escalating: President Snow has declared an all-out war on Katniss, her family, her friends, and all the oppressed people of District 12. The thrill-packed final installment of Suzanne Collins' Hunger Games trilogy will keep young hearts pounding.
Review:
This book was almost torturous to read after finishing
Catching Fire
. Katniss turns into a weepy girl who seems to have no backbone unless she's being shot at. After really beginning to like her in the second book, I found myself annoyed with her, but for different reasons than in the first book. I thought her harsh in
The Hunger Games
and brave in
Catching Fire
, but for most of
Mockingjay
I just wanted to throttle her. Rather than Katniss's character growing, she backpedals fast. And poor Peeta. I just wanted to squeeze him and tell him it would be okay. I will say I didn't feel like the love triangle was really strong. The synopses on the book covers make you think that it's a prominent aspect, but I didn't think it really was that big of a choice personally.
Besides my issue with Katniss, I had some other serious problems with the book. I kind of felt like Collins had no idea what to do with the story she built up in the first and second books. Most of the main characters the reader wants to hear about are drugged up anytime they feel depressed, which with a war going on and loved ones held captive, is most of the time. I can't say the ending surprised me much, although Katniss didn't seem like a 17 year old girl by the end of the book. I understand why the characters were as hardened as they were in this book, and in a way, they were written very well, but I just couldn't connect with Katniss again. The third book seemed much closer to an adult novel than a young adult one with many of the themes regarding war and post-traumatic stress. It's a very dark story with very little hope.
Overall, I liked the story and to a certain extent I understand why the series ending played out the way it did. I didn't love it, and I feel that this story had so much potential, but it just failed to rise to it.

Rating breakdown:
Plot: 2 hearts
Pacing: 2 hearts
Characters: 2 hearts
Character relationships: 2 hearts
Recommend: Only if you've already started the series. You should read it to at least find out how it ends, but just be prepared. There are plenty of people who do like it, so maybe you will too.
Read for these challenges:
YA Literature
Ebook
100+ Books