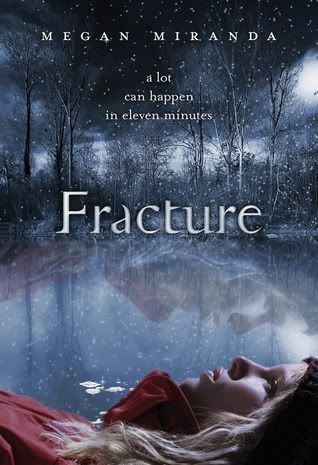 Fracture
by Megan Miranda
*Debut Novel*
Publisher:
Walker & Company
Publication Date:
17 January 2012
Genre:
YA Contemporary (sorta)
My Copy:
received for review from NetGalley - kindle
Eleven minutes passed before Delaney Maxwell was pulled from the icy waters of a Maine lake by her best friend Decker Phillips. By then her heart had stopped beating. Her brain had stopped working. She was dead. And yet she somehow defied medical precedent to come back seemingly fine

-despite the scans that showed significant brain damage. Everyone wants Delaney to be all right, but she knows she's far from normal. Pulled by strange sensations she can't control or explain, Delaney finds herself drawn to the dying. Is her altered brain now predicting death, or causing it?

Then Delaney meets Troy Varga, who recently emerged from a coma with similar abilities. At first she's reassured to find someone who understands the strangeness of her new existence, but Delaney soon discovers that Troy's motives aren't quite what she thought. Is their gift a miracle, a freak of nature-or something much more frightening?

For fans of best-sellers like Before I Fall and If I Stay, this is a fascinating and heart-rending story about love and friendship and the fine line between life and death.
Review:
I'm not sure where to start with this review. The book was intense, thought provoking, and enjoyable. I really loved Decker. You can tell from the very beginning just how much he cares for Delaney. The way he waits by her hospital bed and how upset he gets when the car spins out of control later. It's too bad that it took Delaney nearly dying for him to get it. I was annoyed with him and his fling with Tara. I was also annoyed that Delaney couldn't see how he felt when it seemed so clear. The part with Carson towards the middle of the book brought tears to my eyes.
Troy was extremely intimidating and more than a little scary. I didn't like him at all. I kept wanting to yell at the book and tell Delaney to stay away from him. He was very controlling and had a very twisted view of the world and his circumstances. His part in the ending of the book did not surprise me. It fit with what I knew of his character. I actually think that particular part of the ending was well done.
The book brings up questions about surviving near death experiences, humanity, and morality. What should you do if you know someone is dying? Should you save them or help them die peacefully? What if they could survive like Delaney? I have to love Delaney's question to the dying - If you had one day left to live, what would you do?
It seems like Miranda might have left the book open for a sequel. I think that would be ill-advised, but the ending is somewhat ambiguous. The synopsis hints at a dark supernatural cause for her predictions, but there is never anything like that in the book. She never explains why Delaney survived without any complications considering her brain scan. Whether Delaney's "gift" will continue or not is never really determined. The ending of the book feels misplaced somehow.
Book Beginning:
"The first time I died, I didn't see God."
Favorite Quote:
"Funny how everything can change in an instant. From death to life. From empty to full. From darkness to light. Or maybe I just wasn't looking. I hadn't known that a light could be a feeling and a sound could be a color and a kiss could be both a question and an answer. And that heaven could be the ocean or a person or this moment or something else entirely." - Kindle location 2504

Rating Breakdown:
Plot: 4 hearts
Pacing: 4 hearts
Characters: 4 hearts
Character Relationships: 5 hearts
Ending: 3 hearts
Recommend: Yes
Read for these challenges:
YA Contemporary
YA Debut Author
100+ Books