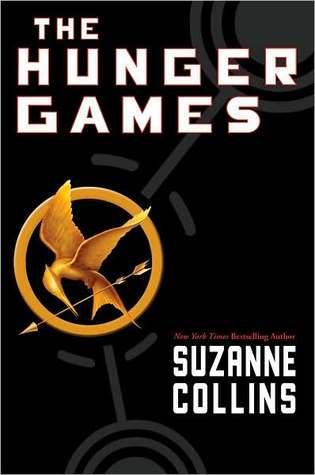 The Hunger Games
by Suzanne Collins
Series:
Hunger Games #1
Publisher:
Scholastic
Publication Date:
14 September 2008
Genre:
YA Dystopian
My Copy:
bought - paperback
In the ruins of a place once known as North America lies the nation of Panem, a shining Capitol surrounded by twelve outlying districts. The Capitol is harsh and cruel and keeps the districts in line by forcing them all to send one boy and one girl between the ages of twelve and eighteen to participate in the annual Hunger Games, a fight to the death on live TV.





Sixteen-year-old Katniss Everdeen, who lives alone with her mother and younger sister Primrose, regards it as a death sentence when she steps forward to take her sister's place in the Games. But Katniss has been close to dead before — and survival, for her, is second nature. Without really meaning to, she becomes a contender. But if she is to win, she will have to start making choices that will weigh survival against humanity and life against love.






Review:


My first book of the new year! I finally got around to reading this. I got the book for free on my Kindle when

Catching Fire

came out because it sounded like a book I would enjoy, and it was free for a few days around the release of the second book. I put off reading it, then it became such a huge deal in the book blogging world. Then I avoided reading it because I didn't want to be disappointed. When I was considering what my first read of the year was, I noticed my paperback copy sitting on the top shelf of the bookcase. What a perfect read to start with; some post-apocalyptic dystopian for 2012. I really liked the book. I found the writing style enjoyable. Collins kept me reading the book well into the morning because I just had to finish it. I loved Peeta, Gale, and Rue; however, I found Katniss hard to empathize with. She was a bit of a harsh character. Don't get me wrong, that totally fits within the book and the society, but I just could not make myself fully support her. I sort of waiver between 4 and 5 stars for this book mostly because of Katniss. Perhaps it was also the fact that I instantly liked Peeta, so I felt bad for his own personal torture in the book. I can appreciate that she didn't fall head over heels in love with Peeta as it happens in many YA books.

I think it is different to read it knowing as much as I did going into it. It's supposed to have a lot of suspense, but some of that was ruined by reading it this late in the game so to speak. I already knew it was a trilogy, so at least Katniss had to survive. I knew there would be a love triangle, so Peeta had to survive. I found it was easy to imagine the games themselves. The writing was done, so that I could visualize the battles and challenges easy enough. I can see how this would make for a great movie if done well. I had several favorite quotes, but I can't really share them without giving away possible spoilers!









Rating Breakdown:


Plot: 5 hearts
Pacing: 5 hearts
Characters: 4 hearts
Character Relationships: 4 hearts
Recommend: Yes!




Read for these 2012 challenges:


Book Blogger Recommendation
YA Literature
TBR Pile
100+ Books