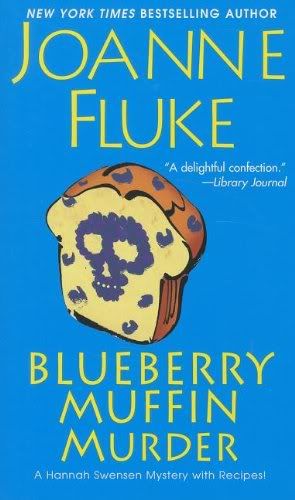 Blueberry Muffin Murder
by Joanne Fluke
Series:
Hannah Swenson #3
Publisher:
Kensington
Publication Date:
1 March 2002
Genre:
Mystery - Cozy, Amateur Sleuth
My Copy:
bought - kindle
Preparations are underway for Lake Eden, Minnesota's annual Winter Carnival - and Hannah Swensen is set to bake up a storm at her popular shop, The Cookie Jar. Too bad the honour of creating the official Winter Carnival cake went to famous lifestyle maven Connie Mac - a half-baked idea, in Hannah's opinion. She suspects Connie Mac is a lot like the confections she whips up on her cable TV cooking show - sweet, light, and scrumptious-looking, but likely to leave a bitter taste in your mouth. Hannah's suspicions are confirmed when Connie Mac's limo rolls into town. Turns out America's 'cooking sweetheart' is a bossy, bad-tempered, and downright domineering. Things finally boil over when Hannah arrives at The Cookie Jar to find the Winter Carnival cake burnt to a crisp - and Connie Mac lying dead in her pantry, struck down while eating one of Hannah's famous blueberry muffins.Next thing Hannah knows, the police have declared The Cookie Jar's kitchen crime scene off-limits. She's a baker without an oven - and the Carnival is right around the corner. Hannah's only alternative is to cook up a plan to save her business - by finding the killer herself.
Review:
This series is full of fun, light-hearted, fast reads. Hannah is such a likable main character. She's very witty and independent. She's sassy. Who doesn't like a sassy MC? Hannah's family is so relateable and entertaining. Through Hannah's intuition we discover that her sister, Andrea, is pregnant with her second child. I have to admit I'm intrigued to see how that plays out in the next few novels. I love how inquisitive and curious Hannah's niece Tracey is about things going on around her. She's very no-nonsense and intuitive about the adults. Andrea's husband Bill rounds out the family with his patience and down-to-earth attitude.
Hannah also has two competing suitors, loveable Norman and protective Mike. I definitely feel like Norman would be the better match for Hannah. Mike seems more like the type to want his significant other to stay home, take care of the kids, make dinner, etc. Norman seems like he would encourage Hannah to go after her dreams regardless of what they were. He definitely feels more supportive.
In this book we are also introduced to Janie, an old friend of Hannah and Andrea. Janie, along with Norman, are both suspects for murdering the cooking sweetheart. Despite being locked out of the Cookie Jar, Hannah still finds a way to make delicious sounding deserts in this installment. Recipes are included, and although I have yet to try any, they sound fantastic! Definitely going to have to try out the grilled cream cheese sandwich.
The murder mystery kept me reading through this book quickly. I hated Connie Mac as much as Hannah. It's no wonder there were so many suspects in this book. Throw in a ghost to haunt Sally's inn, and you're in for some fun and mystery. I'll admit the murderer did surprise me. I wasn't expecting who it was until close to the end of the book.
The pacing in the beginning is a bit slow as Fluke covers the background of the series leading up to the third book. It's a bit repetitive, and in some cases, taken word for word from previous books. The cat Moishe, while cute in the first two books, is also becoming repetitive and not nearly as cute.

Rating Breakdown:
Plot: 4 hearts
Pacing: 3 hearts
Characters: 4 hearts
Character Relationships: 4 hearts
Recommend: Yes
Read for these challenges:
Crusin' Thru The Cozies
Ebook
100+ Books