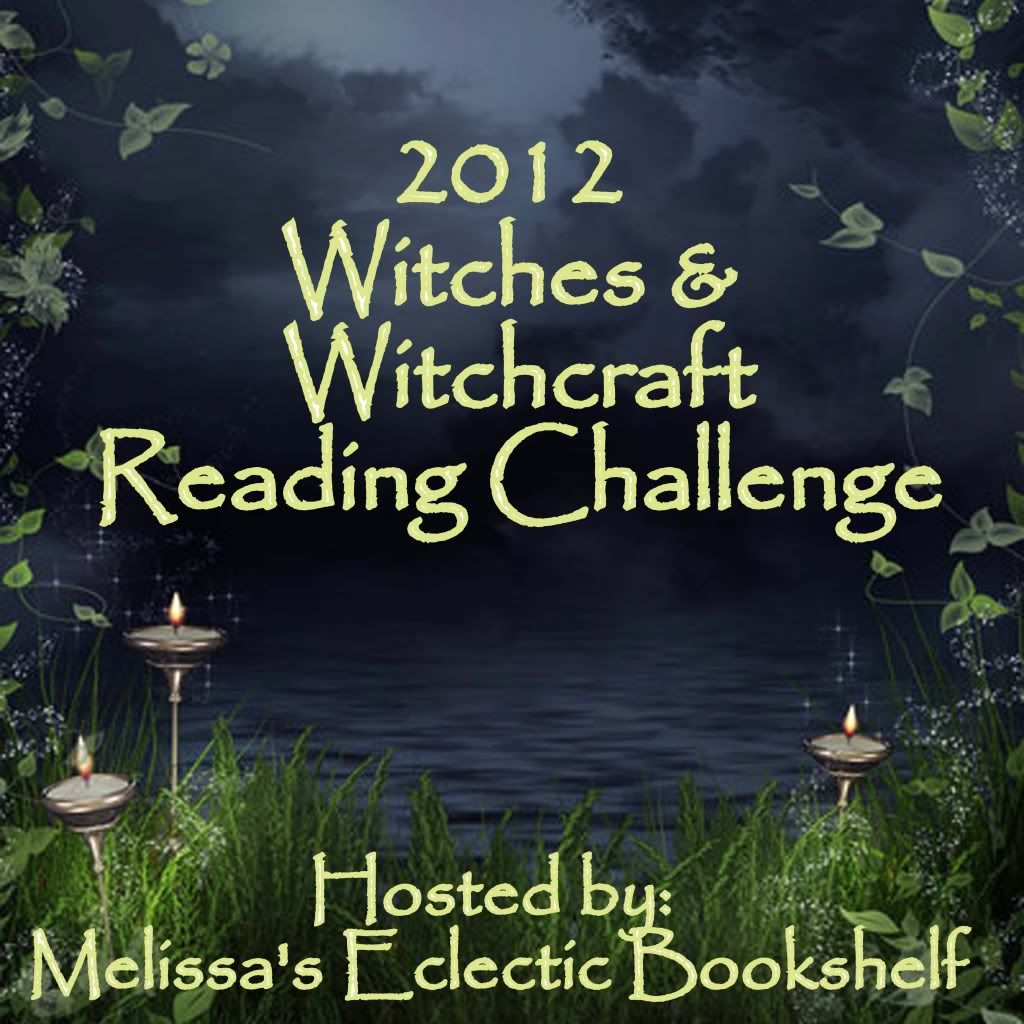 Hosted By: Melissa's Eclectic Bookshelf
1 January 2012 - 31 December 2012
This challenge will run from Jan 1, 2012 - Dec 31, 2012. I will be posting a place to link up a sign-up post (below), reviews and a wrap-up post. (Note: You do not have to review the books to participate, but only those who link up reviews will be entered for the prize)
Any full length book that includes a witch as a main character or major witchcraft elements counts. They may be fiction or non-fiction. However, they should not be reference books which are not read cover to cover-I will leave this to your discretion.
Books can be any format (bound, eBook, audio).
Re-reads and crossovers from other reading challenges are allowed.
You can list your books in advance or just put them in a wrap-up post. If you list them, feel free to change them as the mood takes you.
You can move up levels, but no moving down.
The Levels:
Initiate:
Read 1 - 5 Witchy Books
Maiden:
Read 6 - 10 Witchy Books
Mother:
Read 11 - 15 Witchy Books
Crone: Read 16 - 20
Witchy Books


Fiction:
Practical Magic - Alice Hoffman
Garden Spells - Sarah Addison Allen
Casting Spells
(Sugar Maple, #1)
- Barbara Bretton
A Discovery of Witches (All Souls Trilogy, #1) - Deborah Harkness
The Trouble With Magic (Bewitching Mysteries, No. 1) - Madeline Alt
The Book of Shadows (Herculine #1) - James Reese
New England Witch Chronicles - Chelsea Bellingeri
The Near Witch – Victoria Schwab
The Witches of East End
(The Beauchamp Family, #1)
– Melissa de la Cruz
Born Wicked
(The Cahill Witch Chronicles, #1)
- Jessica Spotswood
Witchlanders by Lena Coakley
Second Hand Spirits
(A Witchcraft Mystery, #1)
- Juliet Blackwell
It Takes a Witch
(A Wishcraft Mystery #1)
- Heather Blake
Once a Witch (Witch #1) -
Carolyn MacCullough
Book of Shadows (Wicca, #1) -
Cate Tiernan
Random Magic - Sasha Soren
Witch Way to Murder (Ophelia & Abby, #1) -
Shirley Damsgaard
Hex Hall (Hex Hall #1) - Rachel Hawkins
The Witching Hour (Lives of the Mayfair Witches #1) - Anne Rice
The Night Strangers -
Chris Bohjalian
Fire Burn and Cauldron Bubble (Jolie Wilkins #1) - HP Mallory
Dead Witch Walking (The Hollows #1)
- Kim Harrison
A Witch in Winter - Ruth Warburton
Would-Be Witch (Southern Witch #1) - Kimberly Frost
Girl's Guide to Witchcraft (Jane Madison #1) - Mindy Klasky
50 Ways to Hex Your Lover (Jazz Tremaine #1) - Linda Wisdom
The Heretic's Daughter - Kathleen Kent
Non-Fiction:
Bucklands's Complete Book of Witchcraft - Raymond Buckland
Drawing Down the Moon - Margot Adler
Wicca: A Guide for the Solitary Practitioner - Scott Cunningham
Natural Witchery: Intuitive, Personal & Practical Magick -
Ellen Dugan
Magick in Theory and Practice -
Aleister Crowley
The Spiral Dance

-

Starhawk
The Golden Bough -

James Frazer
A Witch's Bible: the Complete Witch's Handbook -
Janet & Stewart
Farrar
Wheel of the Year: Living the Magical Life -
Pauline
Campanelli
Witch Crafting - Phyllis Curott
Witchcraft Today - Gerald Gardner
A History of Witchcraft - Jeffrey Russell
I am sticking with the Initiate level for now - 5 books.
My Book List:
1)
Grave Witch
by Kalayna Price
2)
3)
4)
5)